Badgersett Research Farm: Perennial Crops Today – For Your Tomorrow™
Annual Field Day will be held August 20th, 2016!  Come and see all we have to offer
Plant shipping will be suspended starting July 10th, and resume Mid-Late August for Fall Shipments.  We still need to ask for patience and remember we ship by date of your payment and order.
 -------------------------------------------------------------------------------------------------------------------------------------------------------
REMINDER!Any New Orders Placed at this will NOT be shipped before JUNE 2017!  
Folks; this is our brand new website, launched Oct. 5, 2015.  This version does still contain a some outdated information and links; but thanks to years of work by Brandon, we can now freely edit; and we're working on it all steadily.  Please bear with us, and check back often.  
Imagine a world where food production does not include plowing— or water running off naked fields laden with soil, fertilizer, and pesticides.
 That's the world we work for; and we have demonstrated for almost 40 years - it is possible.  And you should be able to make a living, doing it. With our roots going back to 1978, Badgersett works on bringing "Woody Agriculture" into the mainstream world of full scale staple food production.  You can plant them now.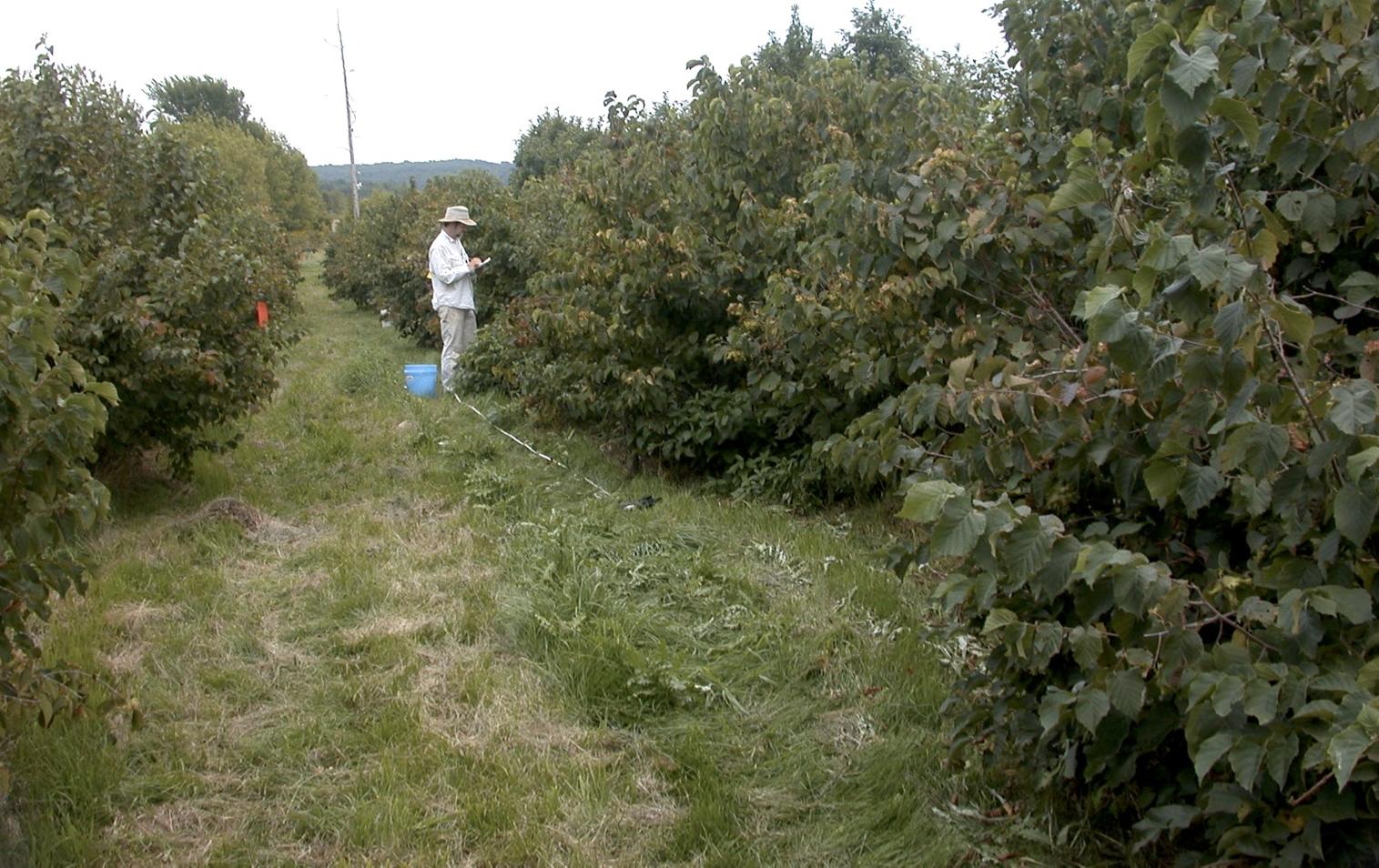 Photo caption: In this photo- you are looking food production equal to soybeans; the nuts are hard to see; but there.
Besides selling the nuts we grow for folks to eat, we breed and sell seedlings of Neohybrid hazelnuts, chestnuts, and hickory-pecans; and we are involved in all aspects of commercializing these crops, from developing machinery and harvest procedures to consumer products and marketing.
Joel Salatin said:
"Anyone ready to innovate outside the box will be blown away by the vision and practical insights demonstrated in Growing Hybrid Hazelnuts. The eclectic blend of science and practical how-to information packed into this fascinating, readable book is enough to inspire a whole new generation of farmers. Turning soybean fields into hazelnut plantations is truly a vision for the stout-hearted pioneer futuristic farmer. Sign me up."--
The first definitive how-to for growing hybrid hazels is here! Available from Chelsea Green Publishing; or direct from Badgersett.
We've updated the
plant catalogs
. Place your order now for the  2017 growing season — we expect to sell out once again in the coming year, in all categories.
Check the Badgersett Growers' Blog for the most recent updates.
Information about Woody Agriculture and our hybrid hazelnuts & chestnuts
Start here if you're new to Badgersett for information about who we are and what we do.
Check out the new ways to peel chestnuta: YouTube videos on the Badgersett Growers Blog
The Badgersett Growers Blog is the best place to look for the latest updates- and of course you can subscribe to this feed to keep better up to date.
Keep even more up to date and connected by liking the Badgersett Facebook Page
We sell several varieties of our own delicious, homegrown, pesticide- and herbicide-free nuts. Harvest is in late summer and early fall, and nuts sell out very soon thereafter. If you want to spend your holidays roasting chestnuts over an open fire while munching on fresh hazelnut cookies, place your orders early, as we usually sell out!
You've read the info and given it some thought (and perhaps sampled some of our nuts), and you'd like put in your own plants. Our hazel plants sell out quickly, so place your orders far in advance of the next planting season, and allow substitutes for the best options.